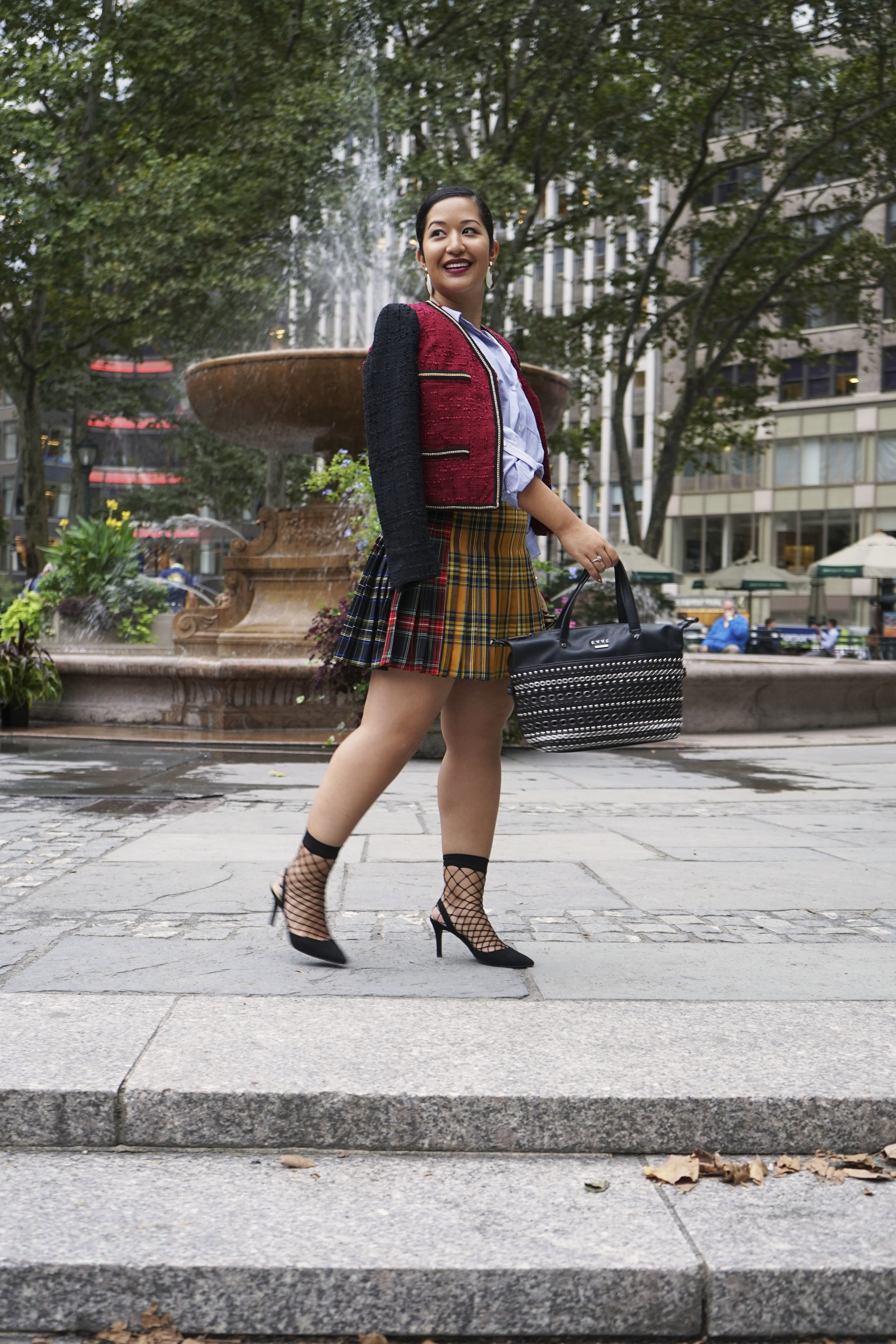 Make a traditional look different through accessories!
Plaid is one of the trendiest prints this Fall and Winter. It's been a big trend since last year, but what's different this year are the different plaid patterns. There are many more plaid items available in stores, making easy for consumers to wear this trend. Plus the colors and plaid pattern sizes are more interesting now.
I've always associated plaid with being a preppy print- something worn for uniforms at a private school. Anyone else? But today, in modern times, the pattern is much more of a trend driven print. A classic plaid mini is one item that will be in style for decades and make a return at least once in your lifetime. You can style it in several ways too. For this look, I went the preppy route with a boyfriend oversized button up and tweed blazer. You can also wear this plaid mini with a sweater and over the knee boots for a totally different look!
My tweed blazer is a few years old but it's one of those classic pieces that never goes out of style. It can be dressed up or worn casually. I've linked a few great options for you below!
A super easy tip to make a pair of pumps look ten times cooler is to wear a pair of fishnets with them! It automatically gives the illusion that you are wearing booties but, in reality, you're not. It is also a really inexpensive to achieve the look of wearing boots. Adding fishnets to a preppy look gives it an edgy feel instead of looking so uptight.
A good leather bag is even better when it has amazing metal details! I love this Evve Milano bag because it fits everything I need plus it is super stylish with high end metal and crystal finishing. This bag is versatile- wear it during the day to work and out for drinks into the night. You can shop the bag HERE and it also comes in white which is great for summer.
See some other ways I have styled plaid here, here, and here!
Thank you for reading!!
XOXO,
Krity
Photography by Ashley Gallerani
*I get commission for purchases or clicks made through links in this post*